(Bharat Prerna Shaktipeeth)
Gram – Muchni Paad, Gambhoi,District- Sabarkantha,Gujarat-373030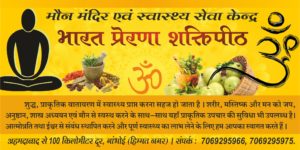 Situated on Ahemdabad-Udaipur National Highway no.7, 100 km from Ahemdabad and 20 Km from Himmatnagar, "Mahila Utthan Ashram" is managed by the NSLS Trust. It is facilitated with a Maun Mandir (For practicing Silence). Women practice meditation, yoga, spiritual rituals etc. over here. The ashram is looked after by women, only women live here. In today's time it's becoming next to impossible for a woman to lead a self-dependent, safe and an independent life. In such times this ashram is a quintessential example. Women of today need self-respect, self-dependency and safety. Those girls-women who do not want to get married and wish to fully dedicate their lives to divine practices of yoga-meditation-discourses-hymns- service to humanity, their lifetime subsistence is provided by the trust. The lives of those girls, women who tread forth with the aim of selfless service to the masses and reaching the heights of spirituality is truly commendable, respectable and venerable. "Mahila Utthan Ashram" is a successful model fulfilling the aim of the NSLS Trust that is – awakening, upliftment and empowerment of women and supporting self-reliant girls-women in leading a safe life filled with dignity and self-respect. There are plans to establish such ashrams in every state of India in near future.